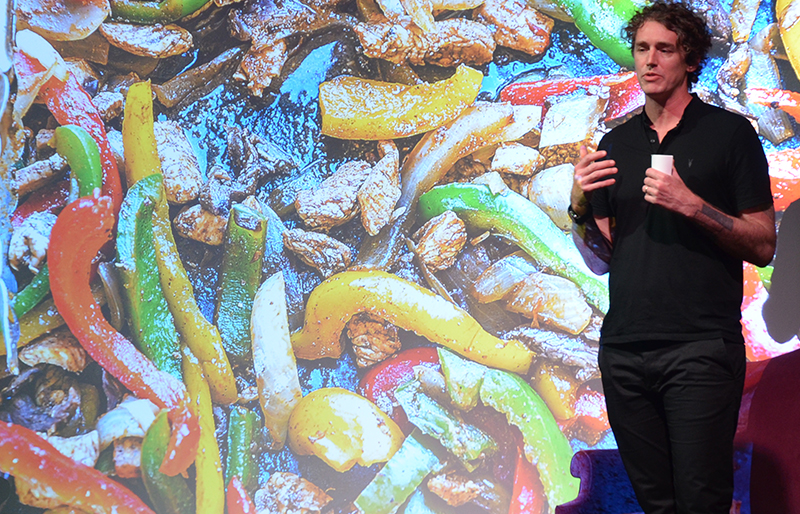 Tyler Gray, co-author of The Sonic Boom: How Sound Transforms the Way We Think, Feel and Buy.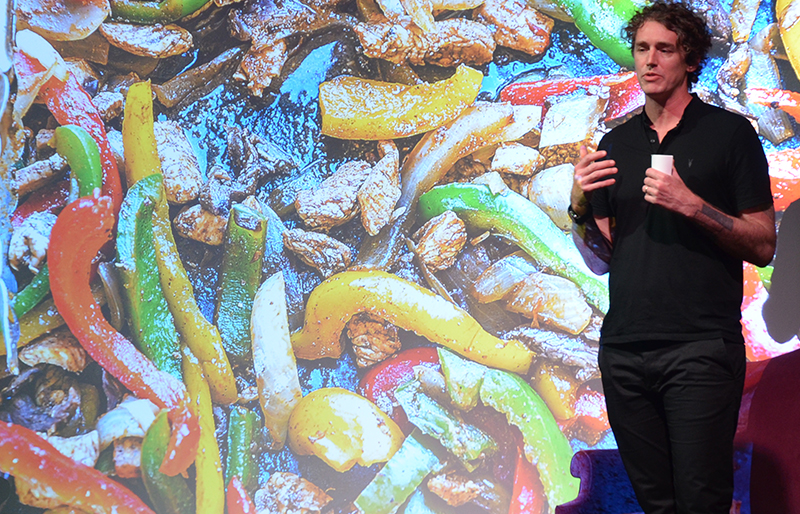 The below is a reposted article I wrote for the Public Relations Society of NY (PRSA-NY)
By Peter Bossio
Tyler Gray took the stage and asked us the following opening question:
Do you recognize that sound? He gave us a moment to ponder…
Could it be radio static? Too inconsistent. Too Crackly.
Perhaps the sizzling of fajitas? Granted it took a few milliseconds but the projector fired up to reveal a full frame colorful photograph of Sizzling Fajitas. But something still felt like it missing and where in the world was he going with this?
We then learned about how important those few milliseconds are. You hear that sound. It turns your head. After that you see it, then you smell it, then your mouth starts watering. It's a multisensory effect that begins with sound. The other senses organize around it and suddenly you've got an experience. That's "The Fajita Effect". Sharing some stats on exactly how successfully Chili's used sound to sell fajitas where other restaurants had failed he now had our full attention. Following was the unmistakable audio clip from a Mister Softee ice cream truck and a quote from the book. "You're buying more than ice cream you're buying childhood" ~James Conway a founder of Mr. Softee.
We then played a brand centered version of name the Sonic Signature. This was a perfect demonstration that any brand regardless of category can use sound to increase attention. The samples ranged from Intel and Audi to MGM Studios. During the Q&A an attendee commented that the large newer social brands don't seem to use Sonic branding. An unplanned but brilliant segway had Jennifer Bassett, Global Content Lead of Spotify – enter stage left. She reinforced Spotify as the event partner sharing key analytics on how effective audio branding can be and directed us to their www.spotifyforbrands.com website for more information.
The event felt more like a high-level information exchange then a lecture. An audience member who engineers sound for ATM's volunteered another resource that tracks what brands are doing in the Sonic arena. It was clear from this exchange that PRSA-NY attracts not only a high caliber of speaker but also the opportunity to learn from the collective experience in the room.
Key Take-Aways:
Sound drives us to action faster than any other sense
Strategically think about sound as an input instead of an output
Capturing attention starts by being quiet and listening to all the noise
Sound is the forgotten sense. It tells you what to do even if you don't see it.
Related Posts
Warning
: count(): Parameter must be an array or an object that implements Countable in
/home/peterb20/public_html/wp-content/themes/jevelin/single.php
on line
158